Last updated: 9 December 2014
Boleto Bancário is a payment method unique to Brazil that refers to a business transaction summarized in a document and barcode.
This quick, simple method is widely embraced by Brazilian companies and consumers. In this article we explain what is required to accept payments with Boleto Bancário.

If you are not familiar with Boleto Bancários we recommend you to read the introduction to Boleto Bancário over at The Brazil Business.
Boleto Bancário is an important payment method for e-commerce transactions in Brazil. The requirements to maintaining a local Brazilian bank account for receiving payment with Boleto Bancário make this payment method challenging for foreign companies to accept.
Requirements for accepting Boleto transactions
The formal requirements for accepting Boleto Bancários is simply to have a Brazilian bank account that is authorized to issue them.
To open a bank account in Brazil you need a company established in the country and registered within the Federal Revenue Service and the Board of Trade that will grant it a Brazil company registration number known as CNPJ.
In order to establish a company in Brazil you need at least two partners and a legal administrator with a Brazilian citizenship or permanent visa to Brazil. The detailed process for how to establish a company in Brazil is outlined in great details over at The Brazil Business.
There are strict laws in Brazil against money laundering and financial crime, so banks carry significant responsibility for financial transactions conducted by their customers. Each bank has different requirements for accepting new accounts. Some banks will require that the company can present 2 years of financial records while other will require to visit the company's office to prove their existence. Documents like ID and CPF of the legal administration and partners, CNPJ registration card and articles of association are always required.
With a functioning Brazilian bank account, a carteira de cobrança, or a charging log in Portuguese, must be enabled on the company account in order to authorize payments with Boleto Bancários. The account manager responsible for the bank account will usually enable this functionality without any additional documentation.
With a Brazilian company, a Brazilian bank account and carteira de cobrança enabled you can start accepting payments with Boleto Bancários. All transactions must take place in the country's currency, the Brazilian Real.
Types of Boleto Bancário
There are two types of carteiras, which determine what kinds of Boleto Bancário can be emitted and which types of charging fees the company will be subjected to, as every Boleto payment is required a transaction fee to the hosting bank. Those types are:
Unregistered: The company does not need to inform the bank for each Boleto Bancário issued and therefore only needs to pay the transaction fee once the payment is deposited by the customer.
Registered: The company is required to inform the bank for each Boleto Bancário emitted and to pay the fee in advance, even if the client does not pay for the transaction. There are also additional fees charged for changes to the Boletos.
The most flexible solution for companies that wish to enable payment with Boleto Bancário from an e-commerce solution is to select for the unregistered option, especially since no charging fee is required if there is no payment by the customers.
Technical requirements for issuing Boleto Bancário
Any software can generate an unregistered Boleto Bancário but the following fields are required: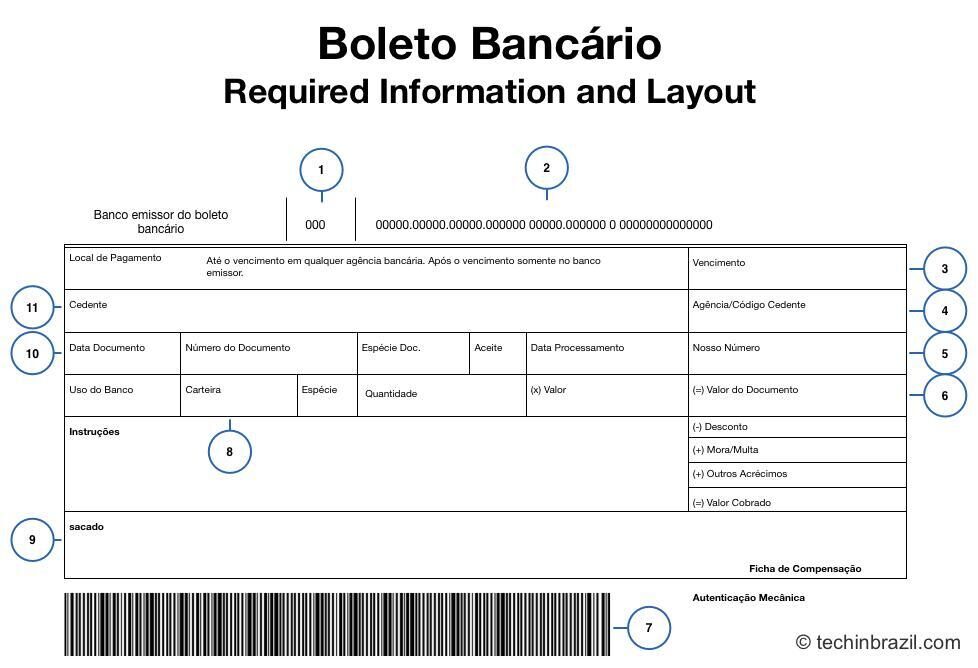 Código do Banco: Three-digit indication number of transaction Bank
Número do código de barras: Numeric representation of the Boleto Bancário's unique barcode
Vencimento: The Boleto Bancário's due date, after which it can only be paid on the emitting bank
Agência/ Código Cedente: Account number to which the payment is destined to
Nosso Número: Internal reference number for the Boleto
Valor do Documento: The total sum of the Boleto to be paid by the client
Código de Barras: Visual code of the Boleto
Carteira: The type of Boleto, registered or unregistered
Sacado: General information about the company, like name, CNPJ/CPF, address, zip code
Data Documento: The day the Boleto was emitted
Cedente: Name of the company or individual to which the Boleto is destined to
Commonly the Boleto Bancário is issued by standardised software provided either by the bank or by a third-party developer. A popular, free open-source alternative to Boleto generating can be found at http://boletophp.com.br.
Accepting Boleto Bancário using a payment gateway
Although issuing a Boleto Bancário is a relatively simple task we have in recent years seen that many payment gateway providers have started to offer integration with Boleto Bancário using the same interface and API as for credit and debit cards.
Using a payment gateway dramatically simplifies the management of Boleto Bancário payments. The procedure for registration of payment from Boleto Bancário is normally a manual task involving use of the online banking or other specialized software issued by the bank. Payment gateway providers take care of this process on your behalf and let you interact with payments of Boleto Bancário just like you would interact with payments through credit or debit cards.
Just like with credit and debit cards the payment of the Boleto Bancário will be done to the payment gateway's bank account and you will receive a single lump sum transaction from the payment gateway provider to your bank account.