Last updated: 8 December 2014
A properly designed product combination algorithm is a way to have customers include additional items in their checkout pages. In this article we will investigate how Brazil's largest e-commerce companies provide product recommendations to their public.
Product Recommendation Opportunities and Methods
A vast majority of e-commerce companies include a section to highlight what products would be of interest to their customers at each product page. This works as a way to attract customers to additional purchases based on their behaviour, type of item bought, category or price range.
The recommendation techniques can be very useful to convert customers but needs to be properly tuned, especially in a country with a large and profoundly varied audience like Brazil. Just like cultural differences between regions of the country can be substantial, consumers can have drastically different buying habits and preferences based on their social class.
Class C, the growing, internet-familiar Brazilian middle class is responsible for around 20% of all purchases from e-commerce in the country according to recent reports. Their preference for product categories and price level can hardly be comparable to the ones of Classes A and B, who make up the majority of Brazilian e-commerce sales.
It is the task of the Brazilian e-commerce companies to understand their audience and provide the best methods of recommending products to boost sales. For this article, Tech in Brazil analysed 15 of the largest online retailers in the country to seek what the parameters used for product recommendations are and analyze if they provide effective means to deal with the country's public.
Case 1: Home Appliances in Large Brazilian Online Department Stores
Research of the largest online department stores in Brazil found that most of these stores do not offer a recommended products section that reflects on the product type as an indication of the customers social class. Most of these stores display a related products section as a simple listing of products of the same category or offered a complimentary product from the category independently of the original product's class.

Walmart.com.br displays a recommended products section with complementary products in the same value range, an indication of the store's awareness of the consumers social class. The products displayed in this recommendation section depend on the original product's type: low cost home appliances led to the inclusion of other categories of low cost complementary products, while premium home appliances had the system work in the same logic and so on.
Case 2: Cell Phones in Brazilian General Stores
None of the largest general and electronics online stores in Brazil researched for this article offers a product recommendation section that reflects on the type and value of smartphones to display complementary product offers based on the customer's social class. The solution found that most of these stores display alternative products in the same value range and category but do not offer any kind of product complementary to the original one.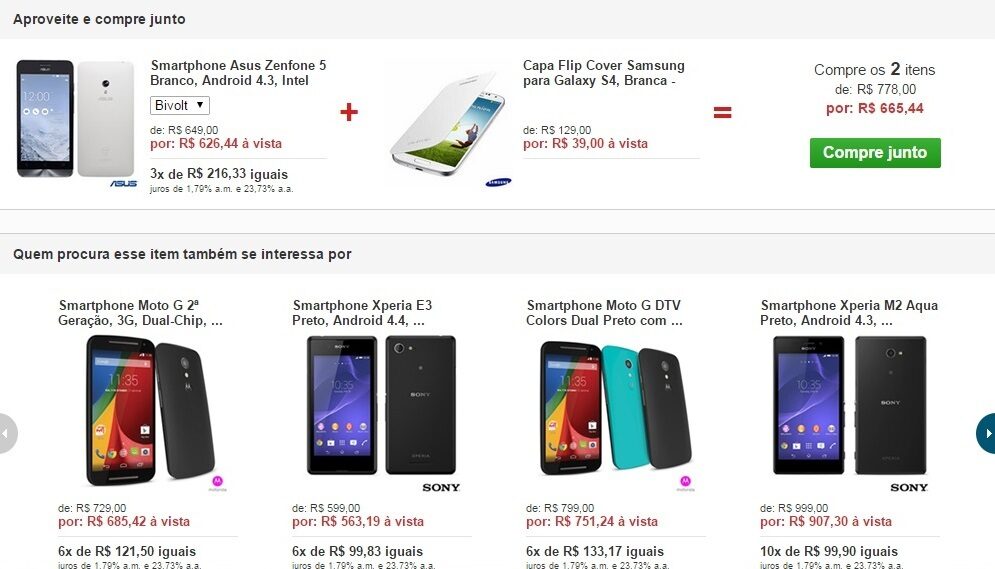 Fastshop displays a recommended accessories section, which offered incompatible accessories in a lot of cases, while Kabum displayed no type of recommendation section at all.
Case 3: Low cost x Premium clothing, shoes and accessories
Renner and Netshoes, two of the largest online clothing and shoe stores in Brazil offered recommendation displays at product pages. The methods for recommendation, however, seemed to be based on pre-made choices which accounted for the combination of clothes based on style rather than have a mechanism to determine the customer`s preference and determine what other products might have appeal.

Dafiti displays a recommended products section based on other customers preferences, offering a selection of products that have been purchased together previously.